Add to my selection
Press Release
24.04.18
.
11:00 AM
The short films and Cinéfondation Jury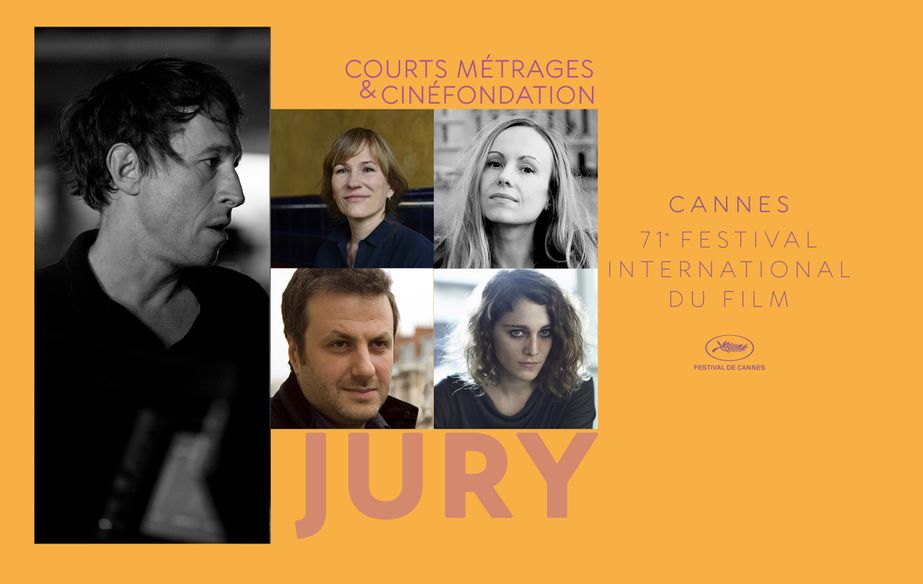 Composed of 3 women and 2 men from various backgrounds, the short films and Cinéfondation Jury is unveiled.
Chaired by Bertrand Bonello, the Jury will name the Short Film Palme d'or winner from among the 8 films selected in Competition. It will be awarded at the Closing Ceremony of the 71th Festival de Cannes on Sunday, May, 19th in the Grand Theatre Lumière.
The 5 members of the Jury will also be awarding prizes for three of the 17 student films shown as part of the Cinéfondation selection. The Cinéfondation Prizes will be announced by the Jury on Thursday, May, 17th during an Awards Ceremony in the Buñuel Theatre, which will be followed by a screening of the winning films.
THE JURY 2018

BERTRAND BONELLO
French director, writer & composer


VALESKA GRISEBACH
German director, writer & producer


KHALIL JOREIGE
Lebanese filmmaker & artist


ALANTÉ KAVAÏTÉ
French-Lithuanian director & screenwriter


ARIANE LABED
French actress

VALESKA GRISEBACH
German director, writer & producer
After having studied Philosophy and German studies in Berlin, Munich and Vienna, Valeska Grisebach trained to become a director at the Film Academy Vienna, under Peter Patzak, Wolfgang Glück and Michael Haneke. In 2001, her graduation film Be my Star received the FIPRESCI Award (Special Mention) at the Toronto International Film Festival as well as the Grand Jury Award at the Turin Film Festival. Her second feature film, Longing, was invited to take part in the Berlinale Competition (2006), won several awards, including the Special Jury Award in Buenos Aires (BAFICI), the Grand Prix Asturias at the Gijón Film Festival and the Special Jury Award at the Warsaw Film Festival. In 2017, her third feature film, Western, premiered at the 70th Festival de Cannes in the Un Certain Regard section and received numerous distinctions worldwide.

KHALIL JOREIGE
Lebanese Filmmaker & artist
Khalil Joreige lives and works with Joana Hadjithomas. Self-taught, they became filmmakers and artists out of necessity in the wake of the Lebanese Civil Wars, inventing singular modes of production that alternate freely between different formats, genres and mediums. Their films have been shown and awarded in the most important international film festivals and their artworks exhibited in museums, biennales and art centers around the world. In 2017 they were awarded the prestigious Marcel-Duchamp prize and are currently in pre-production of their next feature film. Co-founder of Abbout Productions with Georges Schoucair, Khalil Joreige is also a member of the Board of Metropolis Art Cinema, which is currently developing the new cinematheque of Beirut.

ALANTÉ KAVAÏTÉ
French-Lithuanian director & writer
Born in Lithuania, Alanté Kavaïté has lived and worked in France since 1992. Graduated from the École d'Art d'Avignon, Alanté Kavaïté continued her studies at the École des Beaux-Art de Paris (ENSBA). She directed in 2006 her first feature film Écoute le Temps (Fissures) with Émilie Dequenne, Ludmila Mikaël and Mathieu Demy. Her second film, Summer (The Summer of Sangaile), was released in 2015 and selected in over one hundred international festivals (Berlinale, Stockholm, Busan…), it has received multiple awards including the directing award in Sundance. Alanté Kavaïté is also the co-writer of Evolution by Lucile Hadzihalilovic.

ARIANE LABED
French Actress
Ariane Labed was born in Athens to French parents and grew up in Greece and Germany. She studied drama at Provence University, where she co-founded the Vasistas theatre company, serving as actor, co-director and choreographer. Following a project at the National Theatre of Greece in Athens, she made her screen debut: Attenberg by Athina Rachel Tsangari (Best Actress at the Venice 2010 Film Festival), then Alps by Yorgos Lanthimos in 2011. She went on to feature international projects: Richard Linklater's Before Midnight, Love Island by Jasmila Žbanić, Fidelio, Alice's Journey by Lucie Borleteau (Locarno Best Actress award), The Lobster by Yorgos Lanthimos. She has worked with Guy Maddin, Delphine and Muriel Coulin, Philippe Grandrieux, Justin Kurzel, Garth Davis…

[] []