The Festival de Cannes is gathering short film professionals for a week of 'Rendez-vous Industry'.

Worldwide repertoire of cinematographic talent, the Short Film Corner | Rendez-vous Industry is developing a Market Catalogue of diverse, creative and promising films for programmers, distributors and buyers attending the festival.
In 2022, the 75th Festival de Cannes will take place in May, from Tuesday 17 to Saturday 28 May, and the SFC | Rendez-vous Industry events will be held from Monday 23 to Friday 27 May, 2022.
The Short Film Corner | Rendez-vous Industry, Forum dedicated to short filmmakers, takes place at the heart of the Film Market.
Non-competitive section, its aim is to promote emerging talents and facilitate the interactions between the creation and the industry. Among the film registered, the SFC | Rendez-vous Industry picks the most promising short films coming from all around the wold, in the aim of elaborating a curated Market Catalogue in accordance with the expectation of the main industry decision-makers.

During five days, a program of professional Meetings, Workshops & Panels is developed around dedicated topics such as distribution, co-production and festival strategy.
Thanks to its various initiatives, the SFC | Rendez-vous Industry go hand in hand with the filmmakers and their projects. Short films in development, upcoming shorts currently in postproduction and first feature films are presented to the industry key decision-makers.
Producers with a short film registered in the Market Catalogue are invited to come listen to the pitch sessions of the Focus WiP - shorts in (post-)production, and of the Focus SCRIPT - shorts in development.

Cannes Court Métrage VideoLibrary includes both the Cannes Selections (Official Competition, Cinéfondation, Critic's Week, Director's Fortnight) and the curation of the Short Film Corner market catalogue.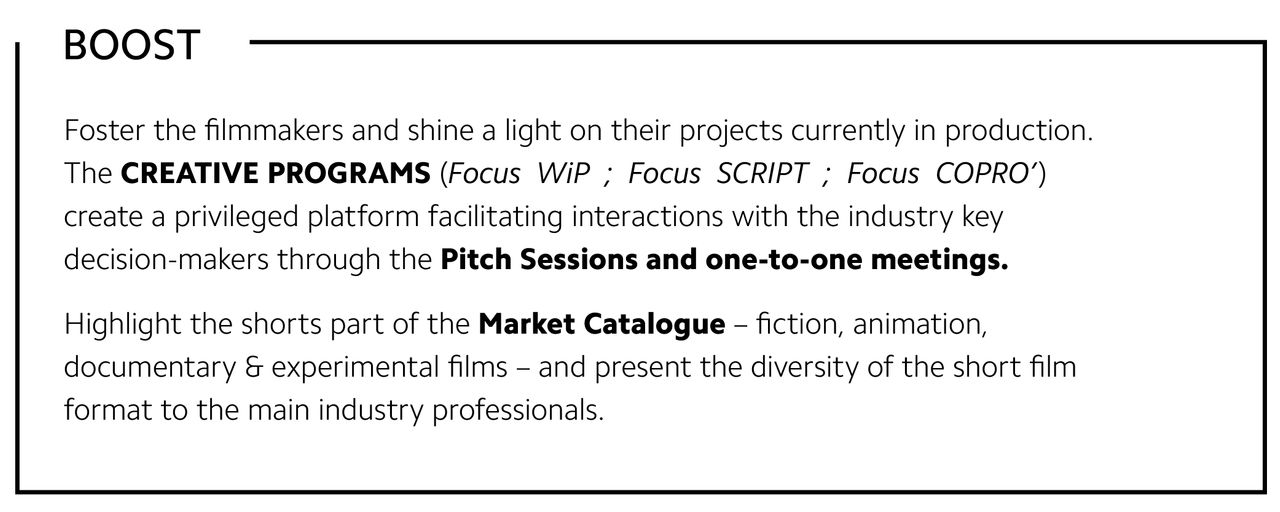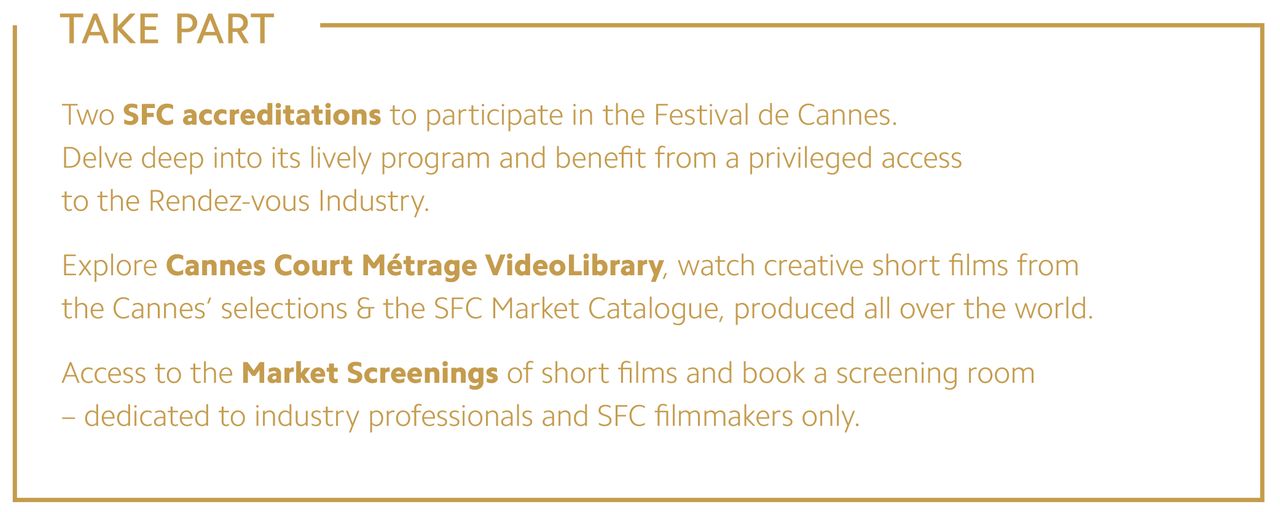 About our Events
2021 Edition